The Neurasmus Program welcomes each year a max. number of 20 students. According to the number of scholarships delivered by the European Commission each year, a few places will be available under the Self-funding scheme. The number of places is published by early February each year.
Extended application procedure for self-funded candidates
The applications for self-funded students will be open from the 20th of January to the 20th of February 2024.
A few candidates only can still join our Program as non-scholarship holders.
If you're interested in, please follow the extended procedure :
(if not done yet in the framework of the application procedure for a scholarship), please submit the application form online between the 20th of January to the 20th of February 2024.
read carefully the eligibility criteria and information on provisional costs(see below)
fill in the Self-funded Candidate Declaration and send a signed copy with all necessary attachments to neurasmus-application@u-bordeaux.fr by February 20th 2023
Eligibility criteria
Candidates can apply under a self‐funding scheme, but :
They understand that they will have to pay the Neurasmus participation costs and they can expect no financial assistance from the EMJMD Scholarship Program. Neurasmus participation costs do not cover any living or travel expense.
In case of sponsorship or application to external scholarship Programs, self-funded candidates will be required to provide the Board of Education with a proof of Sponsorship sustainability or a proof of acceptation to any other scholarship before the Neurasmus Program starts.
A non‐scholarship holder may thus be offered a position in the Neurasmus Program, on the conditions that :
He/she fulfil the Neurasmus admission criteria ; Any submitted application under a self-funding scheme will be revised and debated by the Selection Committee, considering the academic selection criteria set for scholarship holders. The academic level of non-scholarship holders must match the level of the selected applicants who applied for a scholarship.
His/her ranking among the candidates allows him/her to obtain a place in one Neurasmus partner university.
He/she has adequate financial support – information on provisional costs
Candidates who applied for an EMJMD scholarship, but obtained a position on the Reserve List, are authorized to apply under a self-funding scheme. The decision to apply as self-funded student will not affect their position on the reserve list,on the condition that if the Neurasmus Program finally offers them an EMJMD scholarship, they need to cancel any other EU Community scholarship applications.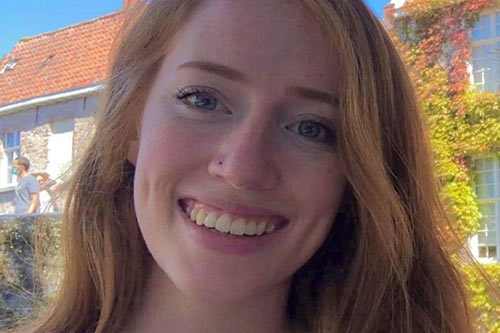 Sarah Roche
"Through my acceptance into the Neurasmus program, I was able to learn vital research and data analysis skills."
Eduarda Centeno
"I joined Neurasmus in 2018, and my life and career have changed a lot since."