Language requirements
Excellent proficiency in English is required. As the classes are taught in English, candidates must meet the required standards.
IELTS (Academic Test): 6.5 (with no score below 6)
TOEFL: Paper-based 580 / Computer-based 237 / Internet-based 93
Cambridge (CAE) C1 Certificate of Advanced English
Cambridge* (CPE) C2 Certificate of Proficiency in English
*Cambridge certified tests where all four components are assessed and passed :
Listening
Reading
Writting
Speaking
The test must have been completed no more than two years before the course starts. Please note that Primary and Secondary Education certificates or 1-year exchange programme documentation are not accepted as English certificates.
Letters from University staff, teachers or academics will not be accepted as proof of English proficiency
EXCEPTION: Are exempted the candidates who completed their education in Canada, USA, UK, Ireland, South Africa, New Zealand or Australia, or are citizen from one of these countries ONLY
for all other candidates: without one of the aforementioned official proves of your English level, your application will be declared as 'incomplete' and will not be considered for evaluation. Another reason for requiring an English test are the conditions set by some immigration services (for instance in the NL) , therefore NO OTHER EXCEPTION can be done. By the given deadline, you need to provide a copy of your English certificate or Proof of registration to the exam if you take the exam after Neurasmus application deadline. In the second case, please note that you will have to transmit the language certificate by January 1st the latest.
Educational background
All candidates must have already obtained a first higher education degree or demonstrate a recognised equivalent level of learning according to national legislation and practices, with outstanding grades (roughly top 10% of your class) and/or other study results.
Candidates should possess a Bachelor's degree (180 ECTS) or equivalent Diploma in biology, pharmacy, biochemistry, biomedical sciences, medical studies or psychology. Interest in the field of Neuroscience has to be provided by candidates with a Bachelor's degree in another subject (chemistry, physics, computer science).
A solid basic knowledge in the following fields is required: general cell biology, basics of chemistry and biochemistry, physics and math.
A Candidate who is currently enrolled in the last year of Bachelor at the time of application is allowed to apply, provided – in case he/she is admitted – he/she submits a proof of graduation before the Neurasmus programme starts, i.e. before August.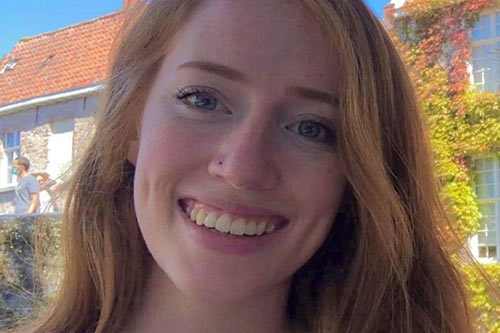 Sarah Roche
"Through my acceptance into the Neurasmus program, I was able to learn vital research and data analysis skills."
Eduarda Centeno
"I joined Neurasmus in 2018, and my life and career have changed a lot since."