Language requirements
Excellent proficiency in English is required. As the classes are taught in English, candidates must meet the required standards.
Your level of English will be tested during the interview, however, it is still necessary to provide a document stating that you are proficient in English.
Documents include:
Official letters from institution stating that courses were delivered in English
Official letters from professors/supervisors/work managers stating that English is used in the workplace and that you are proficient
Passport or ID from a country where English is the official language, or are citizen from one of these countries ONLY
Primary and Secondary Education certificates documentation can be accepted as English certificates
IELTS (Academic Test): 6.5 (with no score below 6)
TOEFL: Paper-based 580 / Computer-based 237 / Internet-based 93
Cambridge (CAE) C1 Certificate of Advanced English
Cambridge* (CPE) C2 Certificate of Proficiency in English
The test must have been completed no more than two years before the application call. If your test is no longer valid, please add the document and one other aformentionned ones.
It will not be necessary to pass tests even if you are selected, however, official document of your English level will be (headed paper, stamps & signatures) as it will be necessary for administrative tasks such as enrollement etc.
Educational background
All candidates must have already obtained a first higher education degree or demonstrate a recognised equivalent level of learning according to national legislation and practices, with outstanding grades (roughly top 10% of your class) and/or other study results.
Candidates should possess a Bachelor's degree (180 ECTS) or equivalent Diploma in biology, pharmacy, biochemistry, biomedical sciences, medical studies or psychology. Interest in the field of Neuroscience has to be provided by candidates with a Bachelor's degree in another subject (chemistry, physics, computer science).
A solid basic knowledge in the following fields is required: general cell biology, basics of chemistry and biochemistry, physics and math.
A Candidate who is currently enrolled in the last year of Bachelor at the time of application is allowed to apply, provided – in case he/she is admitted – he/she submits a proof of graduation before the Neurasmus programme starts, i.e. before August.
GPA Transcript & Grades
From this year, we have implemented a new selection criteria.
A first selection will be made only with the GPA grade. All formats of grades are accepted.
Please keep the "GPA" at the scale of your university (/5, /4, /10, /20, /100, PASS, etc.), it is therefore necessary to add a description of calculation of your average grade for the total bachelor if possible. DO NOT TRY AND CONVERT YOUR GPA, KEEP IT AT THE SCALE OF YOUR UNIVERSITY.
If you do not have your final grade, please add the average of your two previous years, and an average of your courses until the moment of the selection, keeping it at the scale of your institution.
The GPA scale that we are using will be the Dutch GPA grading, on a scale of /10. The Coordination Office in collaboration with our Amsterdam partner will make the conversion once the application call closes . Do not convert the grades yourself. Any applicant with a GPA under 8.5/10 will automatically be dismissed. We will not be communicating the GPA calculation or results to applicants. You will be informed of your further participation or not to the next steps of the selection via email.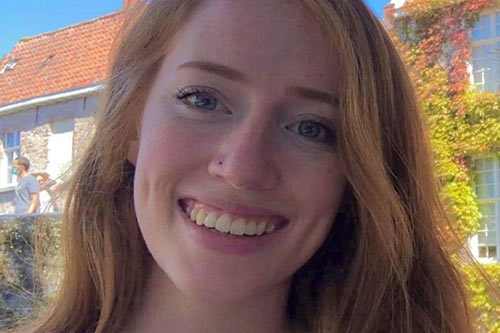 Sarah Roche
"Through my acceptance into the Neurasmus program, I was able to learn vital research and data analysis skills."
Eduarda Centeno
"I joined Neurasmus in 2018, and my life and career have changed a lot since."