Presentation
The Neurasmus Consortium offers a diversity of expertise that covers all fields of modern neuroscience: from neurogenetics and neurogenomics, cellular and molecular neurobiology, neurophysiology, neurophotonics, physiology and pathophysiology of neural plasticity, to medical neurosciences. All partners are sites of excellence in neuroscience and have a proven track record of close collaboration.
Learn more about the courses :
Amsterdam
Bordeaux

Bordeaux Curricula
Semester 1
Semester 2 : 5 month internship in Bordeaux or externalized
Semester 3
Semester 4 : Master thesis in Bordeaux or abroad

Göttingen
Berlin
Coimbra
Québec
Program structure and Mobility
At the application stage, students choose the main track they wish to follow. This defines their first year mobility.
Track 1: Amsterdam (120 ECTS)
Track 2: Bordeaux (120 ECTS)
Track 3: Göttingen (120 ECTS)
Track 4: Berlin (120 ECTS)
Track 5: Coimbra (120 ECTS)
Track 6: Amsterdam-Bordeaux (120 ECTS)
Depending on the track chosen, students spend their first and second semesters in Amsterdam/ Berlin/Bordeaux/ Göttingen . The Board of Education agrees on the first, second or third wish according to the selection ranking and intake capacity of partner institutions.
At the end of the first semester, students choose a subspecialty which defines the partner university(ies) for the 2nd year. It is part of the student's Personal Training Plan (PTP). Students have up to the end of first year / start of third semester to choose the subject of their Master Thesis. Students then spend their third and fourth semesters in one or two locations: Amsterdam / Berlin / Bordeaux / Göttingen /Laval.
Semester 1 and 2, core curriculum
Students are introduced to the different domains of Neuroscience and provided with the basic knowledge they need through a commonly agreed core curriculum (core courses). In addition, every student conducts research projects (laboratory rotations) in different participating departments. Research projects involve experimental work, data analysis and a written laboratory report.
Semester 3, advanced courses
The choice of the advanced courses (30 ECTS), in association with the initial track, will define the subspeciality training obtained by the student.
Semester 4, Master Thesis
Students complete a six month research project or industrial placement leading to a Master Thesis (30 ECTS). It takes place in a location defined according to the Personal Training Plan. This location must be chosen in collaboration with the affiliated partner university.
Nota Bene. A list of all the master thesis topics done so far is available on the Student/Alumni database.
Literature Survey
In addition to core and advanced courses, students have to take a course entitled 'Literature survey', in which they study, discuss and report on a list of foundational research papers in Neuroscience, write a research proposal related to their future thesis or another research project, and learn to write a scientific paper. When required, the literature survey can be supervised by the thesis director.
If the Literature survey is taken in one place during first or second semester (part of first year core curriculum), it will not take place in Semester 3 (no redundancy). Courses for the equivalent amount of ECTS will then be offered to students.
Finding a lab
Regarding research projects (lab rotations/ Master thesis), students are invited to identify lab supervisors and research fields of interest through internship placement offers available among the different partner universities or through personal initiative if placement offers do not match their interest.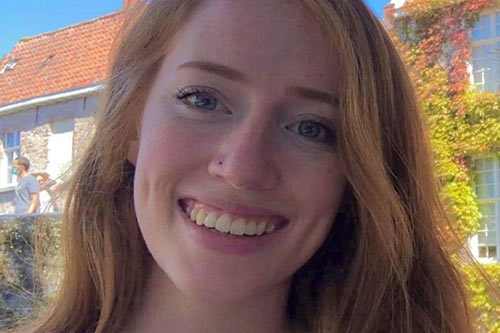 Sarah Roche
"Through my acceptance into the Neurasmus program, I was able to learn vital research and data analysis skills."
Eduarda Centeno
"I joined Neurasmus in 2018, and my life and career have changed a lot since."