Detailed mobility plan
Year 1.Introduction to neuroscience foundations and academic skills.
The academic induction is essentially the same for all partner institutions and includes Neuroanatomy, Neurophysiology, Cellular and Molecular Neurobiology, Clinical Neuroscience, Statistics, Writing a Research proposal, Experimental Design… The first specialization is therefore based on the internship or lab rotations the students undertake in year 1.
Year 2.Second specialization.
The second specialization and the mobility are created by a selection of elective courses, the literature survey and the master thesis internship. Students move to their year 2 institution according to the scientific area they want to develop, after validation by the Board of Education.
Specialization at each University (during Year 2):
VU Amsterdam : Neurogenomics
U. Bordeaux : Neuropharmacology
Humboldt University-Berlin : Clinical Neuroimaging and Translational Research
U. Göttingen : Neurophysiology and Imaging
U. Coimbra : Advanced Molecular Neurobiology
U. Laval : Neurophotonics
Semester 2 lab rotation / internship
Semester 3 Elective advanced courses (30 ECTS)
Semester 4 Master thesis (30 ECTS)
Semester 2
lab rotation / internship
Semester 3
Elective advanced courses
To choose between
(30 ECTS)
To choose between
(30 ECTS)
To choose between
(30 ECTS)
To choose between
(30 ECTS)
To choose between
(30 ECTS)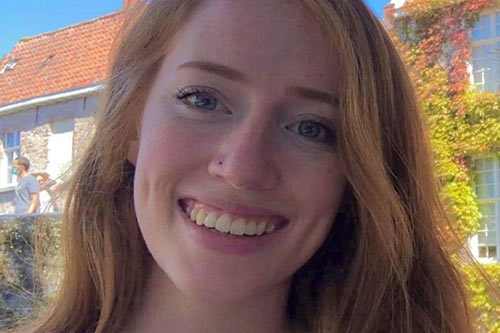 Sarah Roche
"Through my acceptance into the Neurasmus program, I was able to learn vital research and data analysis skills."
Eduarda Centeno
"I joined Neurasmus in 2018, and my life and career have changed a lot since."