Please read carefully the admission criteria and the application guidelines, as well as the eligibility criteria for NExS scholarships and application conditions for self-funded candidates before submitting the application form online. Additional information is available in our FAQ section.
Student Application Call
The application period for a scholarship to join our Master Program in Neuroscience Neurasmusis now closed ! All applications should be submitted through our online system and meet the given deadline(s). Paper applications or applications sent by electronic mail will not be taken into account.
The application system for self-funded students will be open on the 20th January to 20th February 2023: "APPLY HERE".
Any application submitted after 05th of December, 2022 will be automatically rejected.
We remind you that the English test (IELTS – TOEFL – CAE – CPE) is mandatory to join our programme. The score report should be sent to neurasmus-application@u-bordeaux.fr
 Upon review and evaluation of your application by the selection committee, selected students will be contacted for an interview mid-February. Final results of the selection will be published in March.
For any question, please contact our Helpdesk : neurasmus-application@u-bordeaux.fr
Personal Data Use
The personal data of selected candidates/applicants (proposed for a scholarship/fellowship, put on the reserve list or enrolled on a self-paying basis) may be used for the purposes of evaluating the programmes, efficiently manage the projects, and producing statistics. Data could be made available to the EACEA, the European Commission, the European External Action Service staff, as well as to other stakeholders of the Erasmus+ programme, such as Erasmus+ National Agencies, National Erasmus+ Offices and the Erasmus Mundus Student and Alumni Association.
Candidates with special needs
Candidates with special needs, i.e. who have serious health conditions and/or physical disabilities that should be taken into account, are invited to contact the Neurasmus Office by February 10th at the latest, once the Selection process is done.
> They should notify their needs so the Neurasmus Consortium can adapt welcome facilities and teaching material in case their application is successful. Depending on the needs, additional financial support might be provided to insure the best mobility conditions. Please send necessary information to the Neurasmus Head Office : neurasmus@u-bordeaux.fr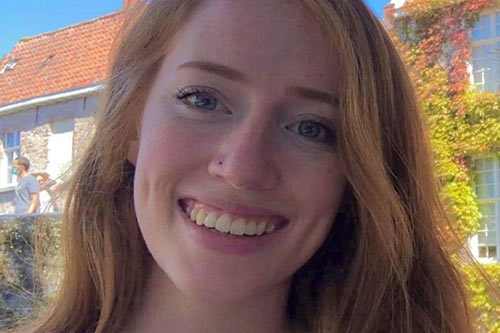 Sarah Roche
"Through my acceptance into the Neurasmus program, I was able to learn vital research and data analysis skills."
Eduarda Centeno
"I joined Neurasmus in 2018, and my life and career have changed a lot since."