Presentation
The Neurasmus Consortium is welcoming outstanding Academics/Professional experts who are interested in contributing to the study program and developing academic/private partnerships. Selected scholars/guest lecturers should bring added value to the Neurasmus programme in terms of student-centered teaching/lecturing, research activities, Master thesis support, academic/professional networking etc.
The aim is to strengthen the expertise available in each university through teaching, research or cooperation (for instance development of collaborative research projects involving laboratories with complementary expertise).
Applicants must either
hold a PhD (or be near completion of one)
OR a substantial track-record in the industry
AND be able to demonstrate their ability to teach at a high level.
We equally welcome professors from higher education institutions as well as practitioners from the private sector. Academic / professional profile is the main criteria that will be used to assess applications.
Selection Criteria
Excellent academic/professional credentials (CV)
Excellent proficiency in the English language
Relevant teaching and research experience or substantial track-record in the industry
Convincing publications in the field of international Neuroscience
Strongly convincing statement of intent and clearly elaborated plan of activities for the scholarship period
Scholarships Eligibility criteria for a scholarship
Applicants must hold citizenship of an Erasmus+ Programme OR Partner countries (lists of eligible countries: link).
The minimum duration per engagement of an EMJMD scholar is 4 to 7 consecutive calendar days (= one week). Days of scholar work may include travelling time.
How to apply
To apply, please send us the following documents in .pdf :
the Application form here to download
a CV, including :

full contact information;
a short professional profile;
current employment status;
academic and professional background (positions and projects);
teaching track-record and professional references.

A short (no more than 600 words) cover letter laying out what added-value your course proposal could bring to the programme, and notably with respect to student-centered teaching/lecturing, research activities and academic/professional networking;
A course proposal, including:

Master programme name;
course title;
learning outcomes (prerequisites, learning objectives and how these objectives fits into the sequence of the Neurasmus programme);
short course syllabus (course duration, themes covered by the courses, course sequence, cases-studies, learning materials, modes of learning, suggested readings…);
desired teaching campus ( Amsterdam, Berlin, Bordeaux, Göttingen, Laval) and suggested teaching dates. We will consider online course proposals as well.

Your LinkedIn page if you have one in the cover email.
Application are to be sent with the subject line
"[NAME_MASTER]_Guest_Lecturer_Application_SURNAME_NAME".
No handwritten application will be considered.
A selection committee is convened each year in March. Applicants will be informed on selection results at the end of March by email. Please note that the Academic and Management Board may suggest modification of course contents should your proposal be accepted.
The consortium is an equal opportunity employer. Minority individuals, persons with disabilities, and woman are encouraged to apply.
It must be pointed out that travel insurance must be contracted by the applicant at its own expense since scholarships do not include provision for any kind of insurance. The candidate is also responsible for visa application.
The Scholarship will be transferred to the invited Scholar upon arrival by the Hosting University.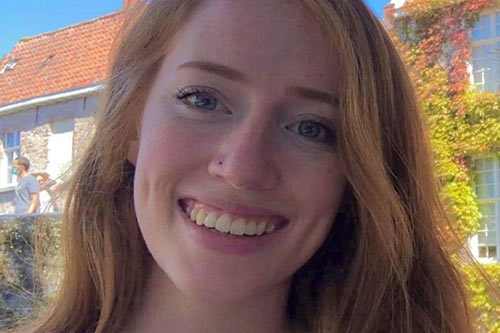 Sarah Roche
"Through my acceptance into the Neurasmus program, I was able to learn vital research and data analysis skills."
Eduarda Centeno
"I joined Neurasmus in 2018, and my life and career have changed a lot since."